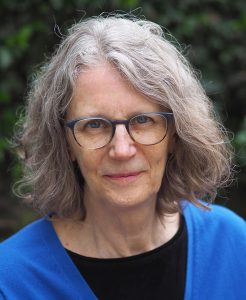 Actor • Writer • Director
A Barewitness player since 2004, Jan Probst is a transplanted Midwesterner, whose roots in the dramatic arts extend back to the 1970s, a rich time for independent theater. Inspired by the rise of feminist theater, and active in the women's martial arts movement, she was a founding member of The Whole Works Women's Theater Collective and the performance troupe Streetwise: Women's Martial Arts Theater.
Jan has studied acting with many fine teachers over many years, including Jo Mohrbach (Shelton Studios), Robert Currier (Marin Shakespeare), Bobby Weinapple (Seydways Acting Studios), Corey Fischer and Laura Gardner. The People's Theater Coalition helped her find her footing on stage, and she honed her on-camera technique at Full Circle. Like other Barewitness Players, Jan is also an alum of the professional acting training program at the Bennett TheatreLab, under the tutelage of Philip Bennett.
An award-winning playwright, Jan's plays have been on stage at numerous venues around the bay, including Women's Work at Venue 9, Cutting Ball Theater, California Travel Troupe at the EXIT Café, the SF Fringe, Piedmont One Act Festival and B8 Theatre, as well as the Valdez Theatre Conference and Bunnell Street Arts Center in Alaska, and Wild Rose Moon in Indiana. Her work also reaches a broader audience via publication and online production. After a pandemic cancellation, her play Bird on a Tree Branch premiered in a virtual production by Phoenix Arts Association (SF), received commendation from San Francisco Bay Area Theatre Critics Circle and is published by Next Stage Press. Nearest to her heart, is when her mother played the lead in a reading of her play The First Page, at a retirement center in her hometown. Jan has been an Artist in Residence at Z Space Studios, Playwright of the Month at Off-Market Theater, guest artist for the ATHE Annual Conference, and a national finalist for the American College Theater Festival. She earned her MFA in Playwriting from San Francisco State University.

Jan also studied film theory at San Francisco State, and learned about video and film production from the good folks at Bay Area Video Coalition and Film Arts Foundation. Her first film was made from 16mm found footage, which she cut on a Steenbeck.
Delighted to have found an exciting creative home with the Barewitness Players, highlights include directing a road movie for the 48 Hour Film Project, and realizing her long-time dream of playing a detective in If the Shoe Fits. She is forever grateful to Stan Stone for entrusting her with the lead in his tender film Gone.
BAREWITNESS PROJECTS
Actor
IPO
Canvas
Served Cold
Gone
If the Shoe Fits
Cycling Hope
Welcome to the Jungle
The Big Kick
Buddy
And We're Back
Director
Breakdown
Assistant Director
The Grab
proud member of the Dramatists Guild of America