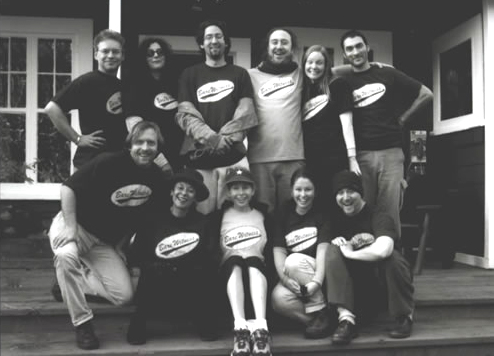 Established in 2000, Barewitness Films (BW) was born out of a friendship between two aspiring filmmakers, Daniel Gamburg and Michael Wohl. In an effort to challenge the conventional and hierarchical nature of film production, Daniel and Michael set out to assemble a group of fellow artists to create spontaneous, short films with very small budgets, on accelerated production schedules.
While studying at the San Francisco-based acting school, The Bennett TheatreLab, Daniel and Michael met the right group of people to start Barewitness. Among the group's original members were David Babich, Marie Bouquet, Matthew Gardner, Mara Katz, Elizabeth Lein, Caroline McCall, Robin McLeod, Mark Rachel, Frank Torrano, Lee Tsoflias, and Dawn Walters.
Since its beginning, BW has seen the addition of new members: Kerry Gudjohnsen, Jan Probst, Glenda Solis, Alex Alexander, Stan Stone, and Radha Lorca. In addition, the group has worked with many members of San Francisco's artistic community to create its body of work (see our Associates list).
In its first year, the group shot over 25 short improvised films, all using one-chip digital video (DV) cameras with little or no budgets (see Our Work for downloads). Because the group shared the same acting training which was based on using improvisation as a means of building character, these first films were shot on location and without scripts. The most information each actor would receive in advance was the time and place of the shoot and a very general description of the person he/she would be portraying – the rest was up the actors to build and the camera operators to record.
In the beginning, Daniel and Michael shared most of the directorial duties, but as time passed, other members presented their ideas for character studies and stories, and eventually took on the role of director while Daniel and Michael served as actors. The sharing of production responsibilities did not stop there – BW's lead camera operator, Robin McLeod, was cast in several of the group's first films, thereby having to train others in the group how to shoot. With each new production, members have taken on other roles involved in moviemaking, including boom operator, producer, and editor.
In 2001, Daniel helmed his first feature film working with BW. Daniel started with an outline (or treatment) of an idea about a start-up company that goes bust. The group met over the course of five months to develop characters for what was to become IPO. With Robin as videographer, Daniel shot nearly 90 hours of improvised footage during a three-week period. BW members collaborated with other actors and artists to create the world of the fictional startup company, Hot Tot. The film focused on the detailed portrayals of 12 people as they experienced the highs and lows of the dot com phenomenon. The film was shot throughout San Francisco and Lake Tahoe, using three-chip DV cameras and wireless microphones. IPO was immediately well received and premiered in 2004 at the Slamdance and Cinequest Film Festivals.
BW periodically hosts screenings of our work, and is currently completing several short films, including Spent, Canvas, Diary and Gone. Watch our home page for screening dates.