Release Print Magazine
September/October 2004
by Thomas Logoreci
LIGHTS, CAMERA, DIRECT!
IPO's Improv Daniel Gamburg Puts the Actors Behind the Camera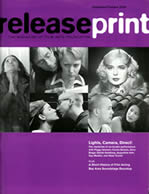 In the San Francisco-shot DV feature IPO, actor David Babich has one of those definitive movie moments, the kind of memorable scene that often ends up adorning a film's poster. With his Internet startup job in jeopardy and recently rejected by his girlfriend, a drunken Babich prowls the downtown streets caught up in the middle of a New Year's celebration. Stumbling across a homeless woman (MiMi Alain), Babich's character (formerly homeless himself) tries to reach out to the distraught woman by giving her his shoes. When even she rejects him, he strips down to his underwear and begins a cathartic run into the night.
Coming where it does in IPO, the scene is an exultant moment for both the character and the audience. But what's extraordinary is that this perfectly sustained note comes not so much from the film's director, Daniel Gamburg, but largely from improvisational work initiated by Babich and Alain. Babich knew that at that point in the story his character, Joe, had reached a critical juncture. During filming, Babich met up with Alain at the restaurant where the two of them were working. "MiMi—she's an actor as well—and I came up with the idea for the transformation of this character," says Babich. "We basically developed the idea of the scene, ran it by Daniel, and he was like 'Absolutely, let's try it.'"
In many ways, IPO's riches-to-rags dot-com saga may be the ultimate collaboration between actor and director. Taking a cue from Lars von Trier's Dogme 95 manifesto, in which the Danish director advocated using only handheld cameras, natural lighting, and real settings, Gamburg upped the aesthetic ante by entirely tossing out the script. With just a bare bones plot, Gamburg and another cameraman, Robin McLeod, shot the completely improvised IPO in a little over twenty days for around $30,000 dollars. "I told myself I would do it on digital video. I didn't need a million dollars," says Gamburg. "I can give actors complete freedom and space, [and] still create that raw sense of spontaneity."
Rehearsals went on for six months with the cast fleshing out characterizations, running through possible scenarios, and even taking turns at the camera. "It empowered them to try different things, to explore their own point of view, and ultimately to express themselves by seeing and controlling their own work," says Gamburg. "The actors started to understand what it's like for me to capture an event and how they can effect the outcome." For IPO's actual shoot, Gamburg rented a large warehouse space in the Mission and completely refitted as if it were to be a working startup company. To capture every line of dialogue from the dozen or so performers, each actor was individually miked with wireless sound as they ran through takes that sometimes went as long as forty-five minutes.
Throughout, Gamburg and McLeod swirled around this unplanned action, recording everything as if it were a documentary. The director never thought twice about the choices he'd made. "That's the biggest dilemma I have watching Hollywood films. I see a script, I can see the words, I know where it's going to go," he says. "It doesn't matter what I do with the camera when it comes to the person in front of it. The camera is literally just a recording device. In the end, it's just a machine."
Gamburg, who seems to do everything to extremes, realized a need to understand the acting process while attending film production classes at San Francisco State University in the early '90s. "In film school, they teach you about film theory, genre, aesthetics, and history. But they don't teach you the actual working relationship between what's happening in front of the camera and how to record that reality," says Gamburg. He made a pact with himself to give up any further ambitions about filmmaking until he learned to direct actors.
When a slot opened up at acting coach Philip Bennett's TheaterLab, Gamburg filled the directorial void and formed the BareWitness ensemble. Together, Gamburg and the actors honed their craft by producing a dozen short films, some of which screened on the festival circuit, at local venues, and online (barewitness.com). (Gamburg has run the school since Bennett retired in 2002; theaterfilmlab.com) Owing to this experience, Gamburg and the actors had the confidence to embark on IPO, their first feature.
It's not surprising that an enormous challenge awaited Gamburg in the editing room. The vérité style of shooting each improvised scene in its entirety left the filmmaker with eighty hours of footage. After a year alone with the material, the first cut of IPO ran somewhere in the neighborhood of seven hours. He eventually whittled it down to a three-hour cut that McLeod and many of the BareWitness actors loved. By the time IPO had secured a slot in last year's Slamdance competition, the film clocked in at 110 minutes.
Gamburg pulls no punches about what his IPO experience garnered him in terms of financial gain. "The problem with this process is that it's not a very commercial way to work. I could probably never do this again. My next film will have to be more conventional." Though he is developing three projects with BareWitness—each to be directed by other members of the ensemble—he does have plans to direct a feature outside the group. He won't say much about it except that the script involves an actor's harrowing encounter with the Russian mob. After facing IPO's challenging obstacles, Gamburg certainly knows a little more about what an actor goes through to prepare for a role. "It was an exciting time of discovery for all of us. We had no idea where it was going to go. The great thing about this collaboration is that the technology gave people a voice, people who normally don't get a voice. What more can a director ask for?"
Director's Choice:
Daniel Gamburg on Mike Leigh
"Mike Leigh's Secrets and Lies: Cynthia, played by Brenda Blethyn, realizes that Hortense, played by Marianne Jean-Baptiste, is her daughter. The moment is riveting and the camera does not budge or cut for almost ten minutes. When I watch most Leigh films, I see no script or actors. I see life unfolding moment to moment. I've used him as a launching point to the way I work."
Thomas Logoreci is a filmmaker and a frequent contributor to Release Print. He recently received a Film Arts development grant for his film My Three Albanias.
©2004 Film Arts Foundation
This article first appeared in the September/October 2004 issue of Release Print.
Reprinted by permission.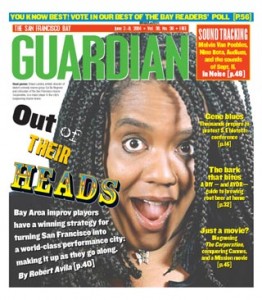 San Francisco Bay Guardian
June 2-8 • Vol. 38 • No. 36 (source)
by Robert Avila
Daniel Gamburg's improvised film, IPO – a wryly intelligent, extremely well-acted portrait of the city during the dot-com era – is an accordingly apt SFIC festival offering.
efilmcritic.com
January 31, 2004 (source)
by Scott Weinberg
We all remember when the Internet went boom, right? Stories about how Johnny Amazon made a trillion bucks were replaced with tale after miserable tale of overt and horrific failure. The latecomers had made their move just a little too late; all the spoils had been claimed.
That's something that the goofball characters in IPO don't know yet: that they're already out of work, despite the catered office parties and the impressive-looking nameplates. That Holy Grail of Internet pioneers, the "IPO", is the brass ring they'll never get to grasp.
At least not with Hot-Tot.com, anyway.
Equal parts ensemble comedy and knowing wink to the early days of Online Greed, Daniel Gamburg's IPO is a quiet and unassuming affair, the sort of movie that becomes engrossing without your even noticing. Sure, it's not as flashy or refined as the multiplex fodder, but let's not knock a first-time filmmaker for honing his talents with the digital technologies that make movies like IPO possible in the first place.
The story's the thing, as they say, and with the dizzying array of colorful characters that Gamburg has conceived, IPO has story to spare. We got well-intentioned (yet under-prepared) young moneymen, an office manager with stars in her eyes, and a collection of intermittently hardworking office types – all of whom are desperately clinging to the hope of a bigtime cash windfall…if and when their project succeeds.
Not content to simply lay the history out there as something to mock with hindsight, Gamburg craftily allows each of his myriad characters to shine through with their own back-stories and various motivations. Employees are hired overnight; the sudden promise of success leads to more than one case of, shall we say, marital strife; the money men get nervous when they see three new office temps…all of whom are taking a coffee break at the same time.
Also quite refreshing is the way in which homosexual relationships co-exist among "straight folk": with an air of 'matter-of-factness' and as everyday experience. I hate to even draw attention to it, but most movies that feature some form of homosexuality feel the need to trumpet their 'awareness' and paint their characters in the broadest brush strokes imaginable. Clearly that's not the case here.
First-time writer/director Daniel Gamburg clearly has a canny ear for the way the 'office folk' communicate. Taken as either a caustic look back at a sillier (and greedier) period, or as a busy and affable ensemble piece, "IPO" marks a rock-solid debut either way.
San Francisco Salvo Theater Review
May 2003
by Jim Strope
Enlightened Pictures presents its full-length video set in San Francisco during the hottest days of Internet start ups. The personalities, in a fast-paced improvised sequence, tell their unique stories and common themes with tender attention to the subtlety and brutality of relationships. It's about making babies and money. It's about energy and lots of it. The full-dimensioned spray of relationships quickly reveals who is with whom.
The production rests on solid performances by the extensive cast including Lee Flores Tsoflias, Mark Rachel, Kerry Gudjohnson, and Matthew Gardner, each commanding attention by alluding to their delicious secrets, each providing personal support for the
thematic and photographic structure of the unfolding drama. David Babich plays Dean, a wild meteor of a man arcing into close orbit around his beloved, played by Radha Lorca.
Daniel Gamburg's editing distributed the one hour and forty-three minute show rather fairly among a core cast of ten or so. The crew took chances with the shoot and it paid off in plenty of action and movement. The neighborhoods are vividly shot and perhaps more could be made of that, as if the characters of IPO, in all their specificity, were part of much larger story, in idea as well as in vision. Shot without a script, the entire movie was improvised, producing a selection wide and rich enough in choices to enable the editor to assemble a set of interleaving stories rising to climax.
If there was a flaw, it was the suddenness of the reinforcing of the impending climax by Dean in the scene in Tahoe. But then again, someone would have stepped forth to take the scene after the confession of Mathew and Kerry. And it returned Frank Torrano, as the policeman, with vengeance (and Dean his target), characterized the ending, and returned the viewer and viewed to constant change.
The experiment is an exploration of autonomy as illustrated by the power and independence of personality.
The production relied on the teamwork of Barewitness. Their website features shorter work and trailers as well as contact info about the members.
FilmThreat.com
February 2, 2004
by Jim Agnew (source)
"IPO" tells the tale of a group of San Francisco dot-commers attempting to get rich through their companies' IPO (initial public offering). The problem? They quickly learn that money and friendship don't always go hand in hand, especially when you have a not so great business plan.
"IPO" starts off as a comedy that appears to be poking fun at the stupidity of the workplace and the corporate world of self-obsessed dot-commers. But just as you start to have a good laugh or two, "IPO" suddenly shifts gears into more serious fare. Then after you settle into drama mode, "IPO" then again shifts gears again into tragicomedy mode. And that's really the only thing keeping "IPO" from being a great film, a lack of focus.
All of the players in "IPO" are magnificent, which is an amazing feat considering the size and scope of the cast. But that's also part of the problem. There are so many characters and relationships between them all that you need a chart to keep track of who's who. Some of the characters that play as sub-plots suddenly become dominate players in the story while other main characters you've been introduced to just suddenly disappear off the radar.
Director Daniel Gamburg has put together an interesting story and a fantastic cast. "IPO" could have been something really amazing if he could have just taken all these great elements and put them into a more cohesive package, with a little more focus.