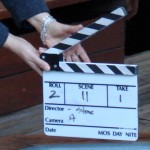 Since our first project in 2000, the Barewitness Players have made dozens of unscripted films together.
Weekend shoots, retreat locations and play date improvs are all part of our creative playground.
We invite you to enjoy a sneak peek into our work.
Sometimes what's public is good, but what's private is truly better. Diary was directed by Marie Bouquet Hay, original story idea by Glenda Solis.
Sometimes, remembering is too hard to bear. Gone was directed by Stan Stone, with music composed by The Reverend LordRifa and performed by Kaeli Earle.
The 48 Hour Film Project – San Francisco
Barewitness Films has participated in this zany weekend film competition ten times, garnering twenty-one award nominations and six awards along the way.
Featuring a music video created the same day, And We're Back grabbed nominations for Special Effects and Audience Favorite in our screening group. Directed by John Butterfield and Matthew Gardner. These women play through…
In our first foray into sci-fi, our film Buddy illustrates why "THIS house is not a HOME." Stan Stone earned the Best Direction award, while our eery little film was also nominated for Cinematography, Sound Design, Writing and Best Film.
A garage sale find unearths the truth behind a surprising legacy in The Big Kick.
Matthew Gardner took home the honors for Best Direction, and Mark Rachel landed an award for Best Male Actor in the 2016 competition.
The new neighbors are in for a bit of a surprise in Welcome to the Jungle. Our 2015 entry grabbed award nominations for Best Use of Prop and Best Ensemble Acting.
An unsuspecting tour guide is in for an adventure when he is abducted by a pack of bargain basement thugs in The Grab. Directed by Kerry Gudjohnsen, our second road movie grabbed a nomination for Best Use of Line.
If you're looking for hope, she's on her way. Directed by Kerry Gudjohnsen, Cycling Hope was shot on location in Sonoma County, California. Featuring a score by San Francisco composer Martha Stoddard, our hopeful little film was nominated for Best Use of Music.
One dead porn producer. Two determined detectives. Thirty suspects. It all adds up to a who-done-it with a twist. If the Shoe Fits, directed by Stan Stone, was nominated for Best Ensemble Acting, and Kerry Gudjohnsen earned a Best Actor nomination. Our thriller took home the award for Best Use of Line. We don't have a clue why.
Open explores how music bridges the gap between two people struggling to connect with each other. Directed by Mark Rachel, Open earned a Best Direction award, and an Acting nomination was grabbed by Marie Bouquet Hay for her stellar performance.
A betrayed chef serves up vengeance in this tale of culinary comeuppance. Our very first entry in the 48 Hour Film Project, Served Cold earned a Best Editing award, thanks to the expertise of Matthew Gardner.
48 Hour Film – Revisited
I Know the Feeling, directed by Jan Probst, is one couple's journey to some hard economic truths, and the core of what's truly valuable. Originally shot as Breakdown for The 48 Hour Film Project – San Francisco, this is the director's cut with a beautiful new music score by David Babich.
Web Series, Anyone?
Celebrating a special dinner, this happy couple is served a heaping helping of surprise in the serial production S.F. Soap. Directed by Lee Tsoflias.
Teaser
A scene from Canvas, directed by Kerry Gudjohnsen, original story by Matthew Gardner. A woman caught up in the undertow of life struggles to recapture her passion and her art.
From the Archives
Enjoy a few shorts featuring the work of talented Barewitness alums.
In Play Practice, a scheming scene partner has a lot more on his mind than running lines. Directed by Mark Rachel.
The line between virtue and vice is blurred in this story of illicit love on the wrong side of the tracks. Nick and Carla was directed by Daniel Gamburg.
Waves examines how secrets and deceptions affect the relationships between lovers and friends. Directed by Lee Tsoflias.
In The Wash, two strangers come clean with each together while doing their laundry. Directed by Daniel Gamburg.
Inspiration
35 Cents presents an intimate portrayal of the lengths to which love can go. This Barewitness short inspired the characters of Joe and Kachina from the feature film IPO, directed by Barewitness co-founder Daniel Gamberg, produced by Enlightened Pictures.